This project started in 2016 as a fully self-produced short film and started growing
to become a POLITICAL DOCUPORN SHORTFILM SERIES, consisting of EPISODES shot in different cities and countries, with the purpose of bringing to light some concealed historical events and their remaining consequences.
For the realization of these new episodes we have counted with the collaboration of people who, after attending to our "Conspiracy Gatherings", have decided to join this reeducative porno-vandalic adventure.
Currently, five episodes are ready and new material (shot in Barcelona, London and Brussels) is being edited; in the meanwhile, we are looking for collaborators all around the world to help us with the diffusion of this project, as well as the production and post-production of the upcoming episodes.
WATCH THE FILMS!
FUCK THE FASCISM: THE CROSSROAD OF TWO WORLDS
Fuck the Fascism intends to help expose the true story behind monuments which glorify genocides, tyranny and slavery; to raise public awareness about the national heroes who we praise, those men who our streets are named after, and bequeathed great wealth forged with robbery, abuse and blood.
This can be achieved by the unification of counter-information and through diverse collaboration and references to investigative works that denounce and dedust the horrors hidden behind hundreds of memorials, statues and monuments erected all around the globe, which grotesquely invisibilise their concealed history. This is why the links to other works as references are so important; history is always told by the same people, and it's time for us to tell this tale our own way, with the infamy this stories deserve.
Investigations such as Daniela Ortiz's, Xose Quiroga's, Gynepunk's, as so many others, provide us an open field for de-colonialist, filthy, post-pornographic and terrorist collaborations. With repugnance, we also draw upon the words of those who justify massacres, so we can bitterly laugh and stand stronger in this synergetic actions' counter-crusade.
Our idea is to create a big collective net of direct and radical urban actions, to corrupt what's sacred, to burn what's holy, to defy authority and destroy the dignitaries' idealisation, to exchange and spread information all around the globe; to use our bodies, our sex and its strength as executing weapon.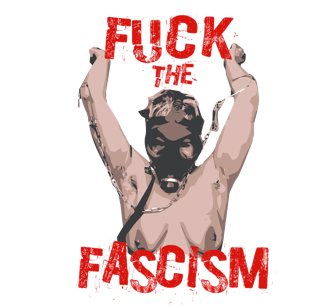 This is an open invitation to all people who want to participate to film their actions and reveal or provide information in the place where it materialises, and send us the material so we can use it for the project.
What is this about? What's the point?
Well, what's this? It's what comes out from our asses. It's our protest attempt for de-constructing imaginary heroes, for our virtual unification; from the collage, from our mental vomit, from all the corners of un-comfortability, through our freedom's widest expression.
The aim of this proposal is to create films with the different collaborations we get; therefore, this project is making a transition from short-film to whatever comes out of this contributions' montage. The purpose is to make known, through diverse ways and with varied strategies, languages and outlooks, some brutal stories shrouded by "history".
By means of this website, we intend to share works which are related to the subject and also information about the many monuments all around the world which are eagerly waiting  to be raped.
Who is fomenting this?
Up until now, the team that who started the idea, filming, production, research and communication is comprised by MariaBasura and JorgeTheObscene. We've counted with the collaboration of Theo Meow, Erix Pussyboy, Tigrotto Animalesque, Julia Locura Ostertag, Nick Jaussi, Jose Pouchucq, Celia de Andres, Candela Cuervo and Adam John Williams; with the participation or the peformers Annabi, Julia Locura Ostertag, Marta Rot, Tigrotto Animalesque, Ugo el Putanìsimo, Mat Sergent, Finn Peaks, Celine le Goul, Paul, Cohod du Pandemonium, Iaci Kupalua, Elena / Urko Post Op, Tania, Lilit Elementa, Roger Rabbitch and Vesania; and the collaboration of Hacker Porn Film Festival (Rome), Porn Yourself Festival (Paris), PornFilmFestival Berlin and London Porn Film Festival, which have invited us to make the Conspiracy Gatherings where we've met most of the conspirers that have done the realisation of the new and future episodes possible. 
MANIFESTO:
"We come out to the streets.
Monsters, mutants, queers, sudakas, migrants, dissidents; those who wake up and want to wake up others. Breaking down the walls imposed by (dis)knowledge.
We fuck back the glorified asses of fascist dignitaries, heroes of colonialism.
We fuck them, and in the crime scene
we ejaculate real history on their stone bodies.
PORNOTERRORISM, we stick at your word.
With our subversive crotches we fight the pornography of this system, of this history, of these legacies which are still existing;
economic inheritances, political power;
yesterday's latifundia, today's conglomerates;
Tomorrow's eternal owners…
Come and join us, the world is full of monuments waiting for you to fuck them.
WE DON'T HAVE, AND WILL NOT HAVE ANY RESPECT!"

NOTE: THIS IS A NON-PROFIT PROJECT AND HAS NO KIND OF MONETARY FUND. IT HAS ONLY BEEN POSSIBLE THANKS TO THE PEOPLE INVOLVED IN IT AND ITS COLLABORATORS.