OPEN CALL
This is an OPEN INVITATION to everyone interested in DECOLONISATION, ARTISTIC ACTIVISM, RADICAL PORNO-TERRORISM and ANTI-FASCIST ACTIONS, to be part of our REEDUCATIVE-VANDALISM DOCUPORN FILM PROJECT "FUCK THE FASCISM".
Everybody who is interested is welcome to actively cooperate. We are not only calling for RADICAL ACTIONS and PERFORMERS, but also for RESEARCHERS to help gathering information, FILMMAKERS to record and edit these actions, PRODUCERS to assist us with the organisation, MUSICIANS to make the soundtracks, LAWYERS to defend us if we get arrested, TRANSPORT, EQUIPMENT, etc. EVERYBODY CAN PARTICIPATE, anybody who wants to unveil the unknown truth of those figures that symbolise genocides, in places where history is concealed, all over the world.
All people who want to participate at a distance can just film their actions providing information about the place where it materialises, and send the recordings to us so we can add them to the project; we are also looking for collaborators all around the world to help us with the diffusion of this project, as well as with the production and post-production of the new episodes.
We are gathering information about monuments around the globe. The idea is that people collaborate sharing their knowledge, talents, experience, photos and videos, so this porno-funa*(1) can grow bigger. 
You can can write us to us to: terrorismoteatral@protonmail.com
 *(1) Funa (From Mapudungun's funa, action of rot; it has taken the connotation of "ruin, that which ruins or spoil something") It's the name given in Chile to a manifestation of public denounce and repudiation against a person or group which did something wrong).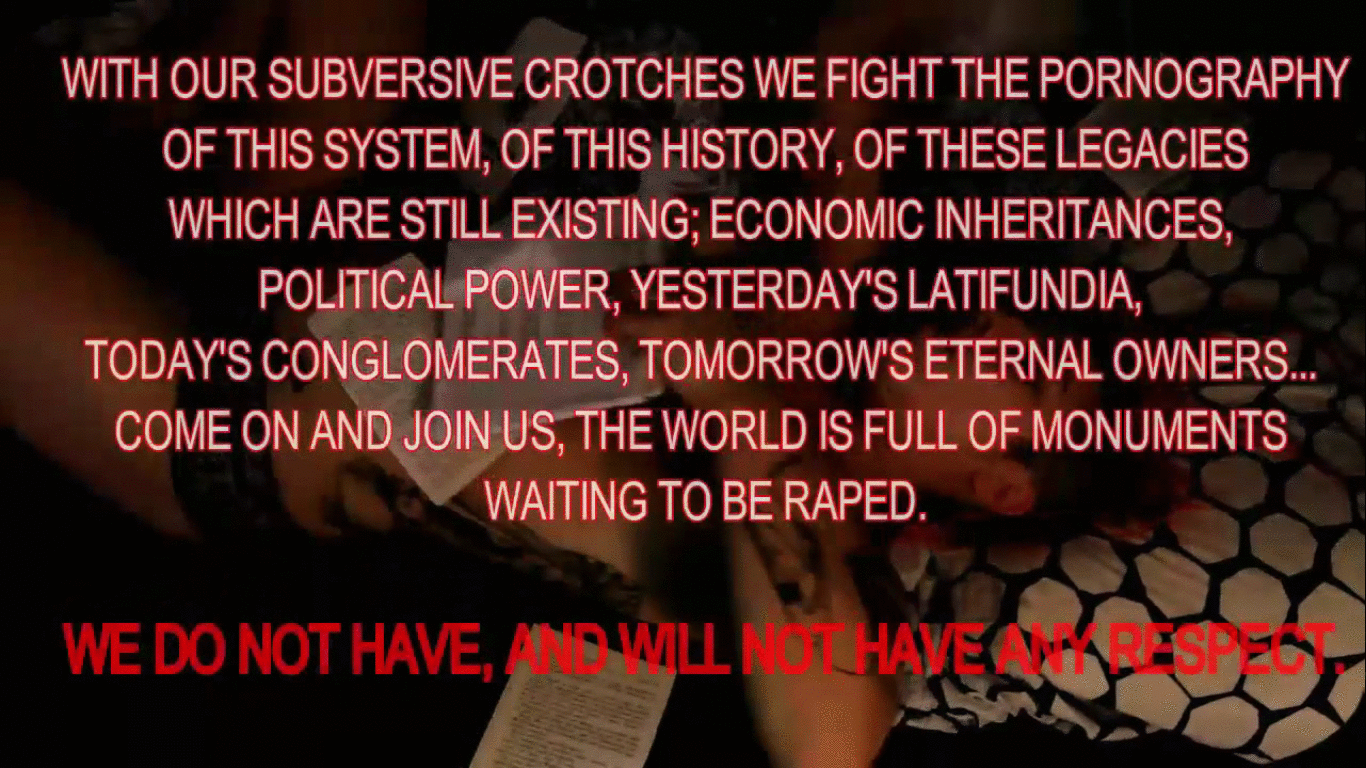 Conspiracy Gatherings:
What started in 2016 as a fully self-produced short-film, now it's growing bigger and harder to become a POLITICAL DOCU-PORN FEATURE FILM, consisting of a SERIES OF EPISODES shot in different cities and countries, with the purpose of bringing to light some concealed historical events and their remaining consequences.
By disclosing the despicable truth behind honoured dignitaries and institutions, we violate their undeserved honour; and in a symbolical revenge, we rape their memorials as they violently did to our cultures, to our people and our lands.

This proposal contemplates the screening of the first two episodes and a "work-in-progress" of the new ones (shot in Paris and Barcelona)* in an open workshop talk, where we introduce the project to the audience and share our experiences on the shootings and the ideas we have for the next episodes. We discuss topics as: How to create different performative radical expressions? Why porn? What does porn films and colonialism history have in common? It is safe to do it? If it is not, what can we do to create a "safe space" in a pornoterrorist action? What are the possible legal consequences? Where can I perform? What is the historical and current political context of the place? Which monuments or places we would like to violate and why?
Our intention is to find allies to collaborate with us in the realisation of new scenes or episodes, which could be shot in your city during the week of your event.
*For the realisation of these new episodes we have counted with the collaboration of people who came to the conspiracy gathering screenings we did in those cities and decided to join this re-educative porno-vandalic adventure. Currently, the third episode and all the new material is being edited while we are looking for collaborators all around the world to help us with the diffusion of this project, as well as with the production and post-production of the new episodes.
Conspiracy Gathering London, 2018.
APRIL 14th at 12h. London, UK.
Fuck the Fascism is an anti-colonialist, porno-terrorist film project, exposing the truth about monuments that glorify genocide, tyranny and slavery – through the direct action of raping the stone bodies, the way they raped countries and people! With episodes already shot in Berlin, Paris and Rome, now it's time to come conspire on how to take the porno-terrorism to the streets of London.In an open workshop talk, founders Maria Basura and Jorge Benavides introduce the project to the audience, show previous episodes and share their experiences on the shootings.
What kind of episode could we shoot in London? And why porn – what does porn films and colonial history have in common? Workshop length approx 90 mins.
Price for this WS is £10/£12 to help support the facilitators. But, No one will be turned away due to lack of funds.*
Info where it's held, and tickets via this link:
https://www.outsavvy.com/event/1308/london-porn-film-festival-workshop-saturday-tickets
*If you love the project and want to join the event but can´t afford it, send us an e-mail to terrorismoteatral@protonmail.com telling us what monuments you would like to dishonour and why, and how you could collaborate with us.
https://www.facebook.com/events/162921504408570/
http://www.londonpff.com/