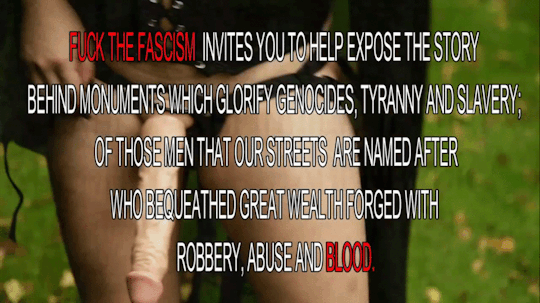 This is an INVITATION to everyone interested in DECOLONISATION, ARTISTIC ACTIVISM, RADICAL PORNO-TERRORISM and ANTI-FASCIST ACTIONS, to be part of our REEDUCATIVE-VANDALISM project FUCK THE FASCISM.
What started as a short-film is growing bigger and harder to become a HISTORICAL DOCUPORN FEAUTURE FILM, and we are looking for collaborators all around the world to help us uncovering the true stories hidden behind those fascist "national heroes", and to rape them back, as they did to our cultures, our lands and our people.
WE NEED YOU to JOIN OUR ACTIONS, and to MAKE YOUR OWN INTERVENTIONS in your hometowns. We need FILMMAKERS to record these deeds, ARTISTS to help us imaging them, PRODUCERS to organise them, MUSICIANS to make the soundtracks, RESEARCHERS to help gathering information, LAWYERS to defend us if we get arrested… EVERYBODY CAN PARTICIPATE, everyone of us, doing what we are good at and what we love.
WE ALL WORKING TOGETHER CAN CERTAINLY CHANGE THE WORLD!!